Chicano Batman - Freedom Is Free
-
Album stream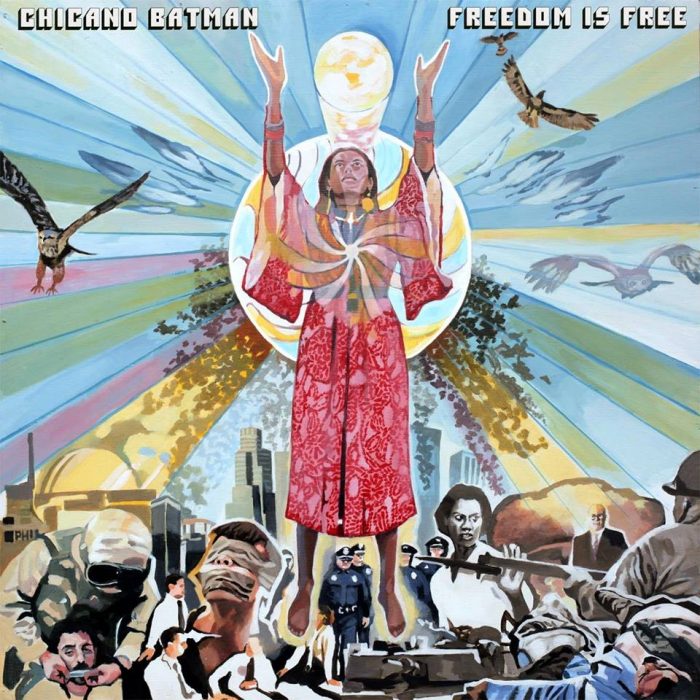 Images courtesy of the artist
Chicano Batman's new album 'Freedom Is Free' is an awesome psychedelic experience full of soul, rock and pop references.
Freedom Is Free will be released on Mar 03, 2017. It will be released via . Stream it courtesy of NPR. Also check out our Chicano Batman artist profile to find eventual tour dates in your area and links to the official web and social media pages of Chicano Batman. Last but not least make sure you scroll down and check out reviews for 'Freedom Is Free'.

And if you like what you hear, get it over at iTunes or Amazon.
Freedom Is Free tracklist
1. Passed You By
2. Friendship (is a Small Boat in a Storm)
3. Angel Child
4. Freedom Is Free
5. La Jura (Prelude)
6. La Jura
7. Flecha Al Sol
8. Jealousy
9. Right Off The Back
10. Run
11. The Taker Story
12. Area C
Chicano Batman tour dates:
05/26 - Spokane, WA @
Gorge Amphitheatre
06/28 - Milwaukee, WI @
American Family Insurance Amphitheater
06/29 - Overland Park, KS @
Lawrence Arts Center
06/30 - Rockford, IL @
Daytrotter
07/01 - Chicago, IL @
Live on Lincoln
07/07 - Des Moines, IA @
Unknown venue
07/07 - Twin Cities, MN @
Turf Club
07/07 - Des Moines, IA @
Western Gateway Park
07/11 - Cleveland, OH @
Beachland Ballroom and Tavern
07/13 - Nashville, TN @
Exit/In
07/14 - Louisville, KY @
Waterfront Park
07/14 - Springfield, MA @
Greenfield Community College
07/15 - New York, NY @
SummerStage, Central Park
07/21 - Los Angeles, CA @
Exposition Park
07/28 - Providence, RI @
Unknown venue
07/29 - Philadelphia, PA @
BB&T Pavilion
09/01 - Seattle, WA @
Unknown venue
09/15 - Colorado Springs, CO @
Unknown venue
'Freedom Is Free' Reviews
We currently know 3 reviews for "Freedom Is Free" by Chicano Batman. The album is highly acclaimed by critics and a must-listen for every fan of the genre.
"The thing is, it's brand new music. But it sounds like it wasn't recorded within 100 miles of a laptop."

PopMatters
"Often delivered in an off-key falsetto, the vocal stylings of Bardo Martinez aren't technically sound, but like the band itself they overflow with warmth and infinite charm."

Austin Chronicle
"The easy joy of the music on Freedom Is Free is as eloquent as any of the lyrics, and this is ambitious multi-cultural funk with a firm sense of heart, soul, and groove."

AllMusic
Disclaimer: There are no download links or leaks on albumstreams.com . It is not allowed to link to filesharing sites (e.g. Torrent)!