Hurray For The Riff Raff - The Navigator
-
Album stream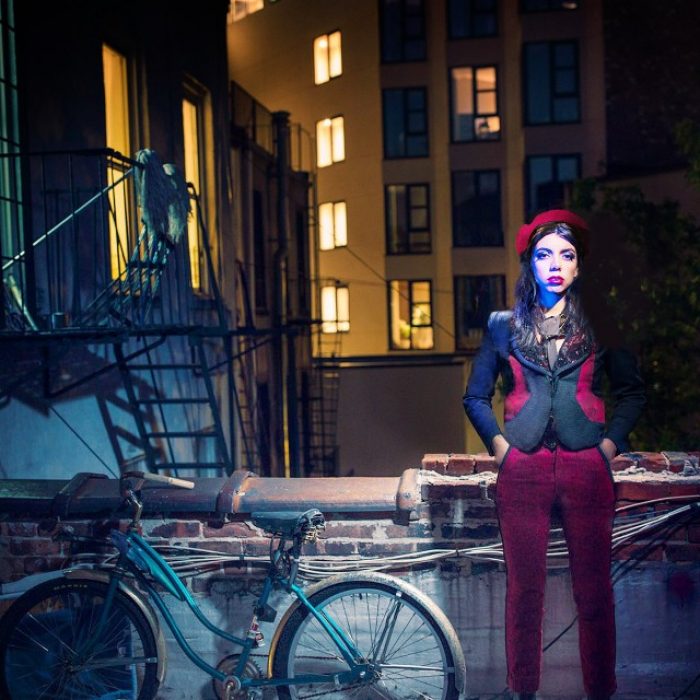 Image courtesy of the artist
Alynda Segarra aka Hurray For The Riff Raff streams her upcoming new album 'The Navigator' in full one week before release. Listen after the jump.
We have labelled The Navigator with our editor's choice badge, which means we totally dig the record. Make sure you listen to it at least once. The Navigator will be released on 10 March 2017 via . Stream it courtesy of NPR. Also check out the artist profile of Hurray For The Riff Raff where you can find more photos, tour dates in your area, links to the official Facebook page and more. Last but not least make sure you scroll down and check out reviews for "The Navigator".

And if you like what you hear, get it over at iTunes or Amazon.
The Navigator tracklist
1. Entrance
2. Living In the City
3. Hungry Ghost
4. Life to Save
5. Nothing's Gonna Change That Girl
6. The Navigator
7. Halfway There
8. Rican Beach
9. Fourteen Floors
10. Settle
11. Pa'lante
12. Finale
Hurray For The Riff Raff tour dates:
04/15 - Middlebury, VT @
Mccullough Student Center, Middlebury College
04/16 - Springfield, MA @
Academy of Music Theatre
04/18 - Boston / Cambridge, MA @
The Sinclair
04/19 - Boston / Cambridge, MA @
The Sinclair
04/20 - New York, NY @
The Bowery Ballroom
04/21 - Philadelphia, PA @
World Cafe Live – Downstairs
04/23 - Washington, DC @
9:30 Club
04/24 - Cincinnati, OH @
The Woodward Theater
04/25 - Cleveland, OH @
Beachland Ballroom and Tavern
04/27 - Detroit, MI @
The Magic Bag
04/28 - Chicago, IL @
Thalia Hall
04/29 - Madison, WI @
High Noon Saloon
04/30 - Twin Cities, MN @
Fine Line Music Cafe
05/02 - St Louis, MO @
Old Rock House
05/03 - Nashville, TN @
Mercy Lounge
05/04 - Birmingham, AL @
Saturn Birmingham
05/05 - New Orleans, LA @
Civic Theatre
06/02 - Dallas - Fort Worth, TX @
Trees
06/03 - Houston, TX @
Eleanor Tinsley Park
06/03 - Houston, TX @
Eleanor Tinsley Park
06/04 - Austin, TX @
Mohawk
06/06 - Santa Fe, NM @
Meow Wolf
06/07 - Phoenix, AZ @
The Crescent Ballroom
06/09 - Los Angeles, CA @
Teragram Ballroom
06/10 - SF Bay Area, CA @
Rio Theatre
06/11 - SF Bay Area, CA @
The Fillmore
06/13 - Portland, OR @
Revolution Hall
06/16 - Seattle, WA @
The Crocodile
06/18 - Boise, ID @
The Olympic Venue
06/19 - Salt Lake City, UT @
Urban Lounge
06/21 - Denver, CO @
Bluebird Theater
Critic Reviews
We currently know 13 reviews for "The Navigator" by Hurray For The Riff Raff. The album received pretty solid reviews among the critics and is one of the better ones this year.
"The Navigator might be full of site-specific anger and yearning, but like its predecessors, it is incredibly easy on the ear. The songs just flow--slinky, sad or elegant in their own ways."

The Observer (UK)
"Her boozy, morning-after croon is still gorgeous, but now there's elements of Puerto Rican bomba and salsa, son cubano, doo-wop, and even the spoken-word poetry of the Nuyorican Poets Cafe she haunted as a teen. Her band has gone through a variety of lineups, but this one feels like a clean slate."

Pitchfork
"A major leap forward for an artist whose previous work now seems like a warm-up for the dizzying heights The Navigator strives for, and often achieves."

American Songwriter
"There's a lot to take in, but it's worth the effort."

The Guardian
"Certainly, this album feels richer than previous Hurray for the Riff Raff records, which all benefitted from the stripped-down aesthetic that often signifies authenticity in Americana, but this broadening of Segarra's scope hardly constitutes pandering."

AllMusic
"Augmenting her folksy troubadour style with Latin percussion and an acappella group for that streetcorner-symphony flavour, she effectively expands the notion of Americana to accommodate another cultural strain alongside the usual blues and country influences."

The Independent (UK)
"The rhythms never let up, no matter how intimate the material, suggesting the pulsating cadences of city life."

PopMatters
"[Navita] charts her course through destruction, indifference and the city sounds: doo wop, Lou Reed-y R&R, even indie rock. It's not until she stares clear-eyed at those closest to her that the way is clear: she's to honor her Latin and Caribbean roots in story and sound. [Apr 2017, p.96]"

Mojo
"The Navigator evocatively captures the essence of the streets of New York's increasingly gentrified outer boroughs."

Slant Magazine
"The question of identity is touched upon throughout the songs here (national, political, gender), but in terms of musical identity, Hurray for the Riff Raff know exactly who they are."

The Skinny
"The record is proof positive that an artist is ever evolving, and change is never something to be feared. Her talent and prowess as a musician and artist remain proven, nay, reinforced, by the alternative direction she takes in The Navigator, and, while different from precedent, there is much to love in it for Hurray for the Riff Raff fans, both new and old."

Under The Radar
"These are not new themes, but Segarra's songs are a complex thicket of emotions, made traversable by her ability to craft a maxim, a hook and a bridge to a chorus."

Exclaim
"Segarra taps into lamenting barroom country previously explored on "Life to Save," but uses the lightning-fast drumming of Puerto Rican plena to address the often physical struggle to protect the sanctity of any homeland on "Rican Beach.""

Austin Chronicle
Disclaimer: There are no download links or leaks on albumstreams.com . It is not allowed to link to filesharing sites (e.g. Torrent)!