Tinariwen - Elwan
-
Album stream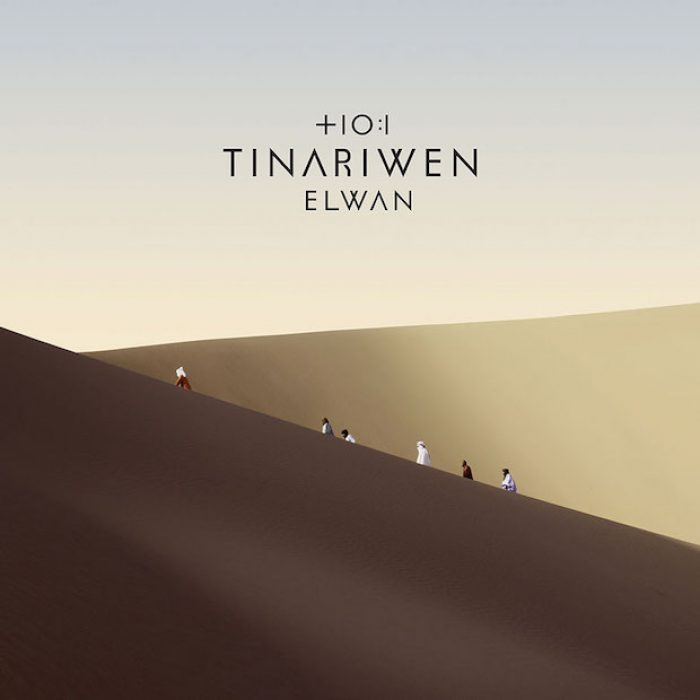 Image courtesy of the artist
Mail's Tuareg guitar band Tinariwen have a new album ready for you to groove along to.
Also on board are guest musicians like Kurt Vile, Mark Lanegan, Alain Johannes and guitarist Matt Sweeney.
Release date for Elwan is on 10 February 2017 via . The stream is delivered via NPR. Also check out the artist profile of Tinariwen where you can find more photos, tour dates in your area, links to the official Facebook page and more. Last but not least make sure you scroll down and check out reviews for "Elwan".

And if you like what you hear, get it over at iTunes or Amazon.
Elwan tracklist
1. Tiwàyyen
2. Sastanàqqàm
3. Nizzagh Ijbal
4. Hayati
5. Ittus
6. Ténéré Tàqqàl
7. Imidiwàn N-Àkall-In
8. Talyat
9. Assàwt
10. Arhegh Ad Annàgh
11. Nànnuflày
12. Intro Flute Fog Edaghan
13. Fog Edaghàn

Tinariwen tour dates:
03/30 - San Diego, CA @
Belly Up Tavern
03/31 - Los Angeles, CA @
Fonda Theatre
04/01 - SF Bay Area, CA @
The UC Theatre
04/02 - Portland, OR @
Revolution Hall
04/03 - Portland, OR @
Revolution Hall
04/04 - Seattle, WA @
Benaroya Hall
04/07 - Salt Lake City, UT @
The State Room
04/08 - Denver, CO @
Oriental Theater
04/10 - Twin Cities, MN @
Cedar Cultural Center
04/11 - Chicago, IL @
Old Town School of Folk Music
04/14 - Boston / Cambridge, MA @
Royale
04/15 - New York, NY @
Brooklyn Bowl
04/16 - New York, NY @
Brooklyn Bowl
04/18 - Philadelphia, PA @
Union Transfer
04/19 - Washington, DC @
The Barns at Wolf Trap
04/21 - Pittsburgh, PA @
Carnegie Library Music Hall of Homestead
Critic Reviews
We currently know 10 reviews for "Elwan" by Tinariwen. The album received pretty solid reviews among the critics and is one of the better ones this year.
"Elwan (Elephants), perhaps their most powerful album since Amassakoul, confronts their situation head-on, in songs musing on the values of ancestry, unity and fellowship, driven by the infectiously hypnotic cyclical guitar grooves that wind like creepers around their poetic imagery."

The Independent (UK)
"If ever a record sounded like a herd of elephants, this is it."

Record Collector
"Elwan is pure rock n' roll. There is an undeniable swagger and an unfettered attitude of resistance here; no pretension or theater."

The Line of Best Fit
"While Elwan may not herald any grand stylistic breakthrough, it does manage to synthesize some of the group's most recent experiments in a way that helps distinguish it within their overall catalog."

Pitchfork
"Higher-end production values and a handful of famous rock guests have little impact upon their fundamental sound, which is a swirl of unfurling guitar lines, massed voices, and clip-clopping percussion. Elwan is not a soundtrack for defeat, but perseverance."

Dusted Magazine
"Whilst they dream of a home that can no longer be found, there is some comfort to be found here in the new family they are building around them with the power of their music."

Drowned In Sound
"Tinariwen once again deliver a vital and engaging album."

AllMusic
"By making the geographically distant feel welcomingly familiar, Tinariwen have made Elwan a can't-miss release for curious audiences from all corners of the globe."

Exclaim
"Tinariwen's call-and-response vocals roll inexorably, entrancingly along. They are still the champions of the genre they created."

The Observer (UK)
"Their last studio record saw them in upbeat, energetic form, and whilst that playfulness is still present at times on Elwan, there is a conscious grounding too this time around."

musicOMH.com
More from Tinariwen
Emaar
Tuareg band Tinariwen drop their latest album "Emaar", which this time has been created in California. And no: Damon Albarn was not involved.
Disclaimer: There are no download links or leaks on albumstreams.com . It is not allowed to link to filesharing sites (e.g. Torrent)!