Please shake hands with London ska punks Eat The Evidence and their occasionally political, super fun upcoming new album 'Sex, Drugs, & Wishy-Washy Politics'.
To quote the press release: "Eat The Evidence emerged from The Broom Cupboard in Southend-on-Sea brandishing their debut album, 'Sex, Drugs & Wishy Washy Politics', which surges from the speakers in a flood of sonic sweat. Eschewing romantic escapism for the distinctly down-to-earth, the album's subject matter ranges from junkie girlfriends to the post-party comedown to political and existential conundrums, all delivered with biting satirical lyrics, breakneck rhythms and such a liberal approach to instrumentation that accordion, trumpet, ukelele and even slide whistle are thrown into the bass-guitar-drums mix. There's no pretence, no heeding of passing trends, just the foul-mouthed rejection of societal flaws and a riotous celebration of the good times."
We have labelled Sex, Drugs, & Wishy-Washy Politics with our editor's choice badge, which means we totally dig the record. Make sure you listen to it at least once. Sex, Drugs, & Wishy-Washy Politics will be available on Jun 09, 2017. You can stream it via Soundcloud. Also check out our Eat The Evidence artist profile to find eventual tour dates in your area and links to the official web and social media pages of Eat The Evidence.

And if you like what you hear, get it over at iTunes or Amazon.
Sex, Drugs, & Wishy-Washy Politics tracklist
1. Fruit of the Loot [Explicit]
2. Duck Hunt [Explicit]
3. You Only Say You Love Me When You're High [Explicit]
4. Third Eye Spy [Explicit]
5. Any Old Excuse [Explicit]
6. Come Down With Me [Explicit]
7. Monkey Thing
8. Honesty [Explicit]
9. Creepy Smile [Explicit]
10. Hippies With Hayfever [Explicit]
11. Theme From An Eat The Evidence Album [Explicit]
12. Tories Go To Waitrose
13. Human Beings [Explicit]
14. No 'ists No 'isms [Explicit]
Sex, Drugs, & Wishy-Washy Politics artwork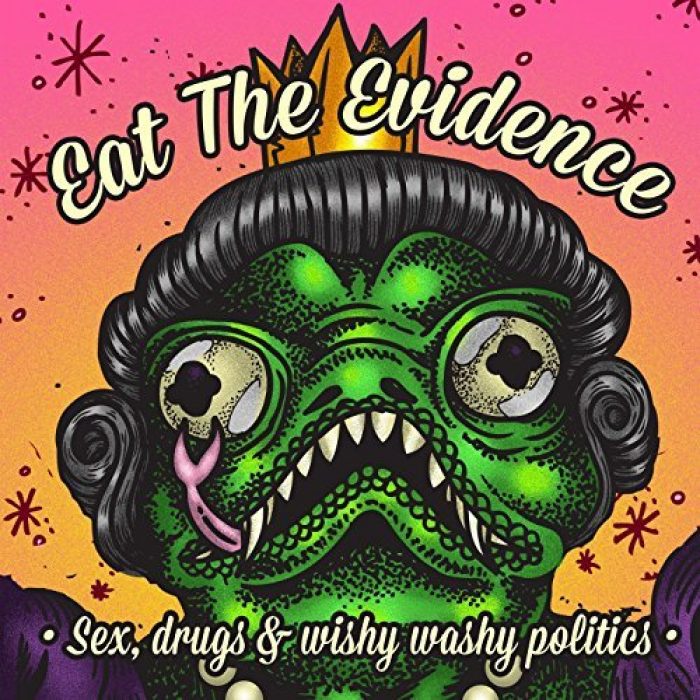 Disclaimer: There are no download links or leaks on albumstreams.com . It is not allowed to link to filesharing sites (e.g. Torrent)!